Welcome to Edie's Glassware! A place for Depression Glass, Elegant Glass, Kitchen Glass, Pottery and much much more.
In the late spring of 1999 Edie's Glassware made it's way to the Internet. Now over 15 years later the website continues to increase in activity. Browsing through all of the Depression Glass, Elegant Glass, Kitchen Glass, Pottery and more is easier than ever!
With over hundreds of visitors a day, this 3rd in a series of site revisions brings the best of the past and adds to it a new wealth of items for sale, photos of items that have been sold and information about collecting glassware.
Some of the features that have been added in this revision begin with a massive database of all of the inventory, past and present.
Edie as a guest on "What's It Worth?" on KDKA-TV2 in Pittsburgh, PA. Edie was a regular guest on Saturday mornings for nearly 4 years.
Another website feature enables visitors to not only fill out a form to ask questions about glassware identification, but also attach up to 3 photos. The addition of photos with the inquiry will do much to speed up the process and return and answer quickly.
Other features include a new navigation system enabling the visitor to get from one page to nearly any other page of the web site in just one click. This expandable menu is color-coded to make it quick and easy to use.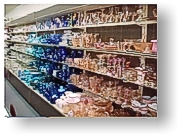 A view of the thousands of items for sale at the now closed Edie's Glassware Store in South Park, PA. All items are now available through our website.
Please look around and come back often. Edie's Glassware isone of the best places on the internet to find and learn about glassware.
Enjoy your stay!